Mini Blue Paperless Recorder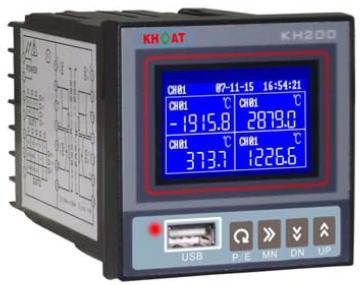 Mini Blue Paperless Recorder
Price And Quantity
Product Specifications
+(0.2%FS+1 digit %

Process Recording
Product Description
Mini Blue Paperless Recorder (72x72x105mm, approximately 4 channels) have a blue LCD display; universal input like thermocouple, current and voltage; thermal resistance, accepts SMT technology, integrated structure output roles like alarm (max 2 productions), supplementary power supply for devices output, print and communication, retransmission, etc. Measuring data can be presented in numerous sorts, like real-time trending, graphic display as bar-graph, alarming state display; history trending memory, also can be reproduced in curve and data with mini printer via RS232 port. Simultaneously, it also delivers structures to check the data of year, month, day, hour, minute, and second straight. The recorder can be shaped with SCADA system, OPC server, and other specialized software with MODBUS-RTU communication protocol via RS485 and RS232 port, easy and flexible, plug and play. PC reinforced data analysis software can design the data in curve and production Excel format for additional analysis.
Specification :

Accuracy: +(0.2%FS+1digit
Power supply:85-240VAC; 24VDC
Display: 2.8inch, 128x64 dot-matrix LCD
Input Signal: T.C: K, S, E, J, T, B,N

RTD: PT100, CU50, CU100
Linear voltage: 0-5V, 1-5V
Linear current: 0-10mA, 4-20mA
Others: R, mv, WRe526, customized etc.

Output Module

Relay alarm output (Max. 2output)
RS232 and RS485 Communication port
5V, 12V, 24VDC aux. power stream
RS232 Production Port USB Port

Record time

Lithe set interval time: 1s, 2s, 3s, 4s, 3600s
4 Channels: 90 days every 1minute interval time

Power-off Protection Time: The setting constraints and history data can be reserved by FLASH MEMORY, learn incessantly if power off. Hardware clock integral for still accuracy running.
Environmental temperature: 0-50
Environmental humidity: 0-85%RH
Size: 72x72x105 RH
Features:
4 MB built-in memory, for long time data record.
Maximum 2 points transmit output, or 1 points 4-20 mA.
Measuring data can be shown in numerous types: graph, bar, curve and digit.
The history data can be stowed in USB memory, relocated to PC straight or soft analysis.
RS-485, RS-232 sequential interface. MODBUS-RTU communique protocol.
Trade Information
Contact us for information regarding our sample policy

100 % safety Guarantee