Universal PID Controller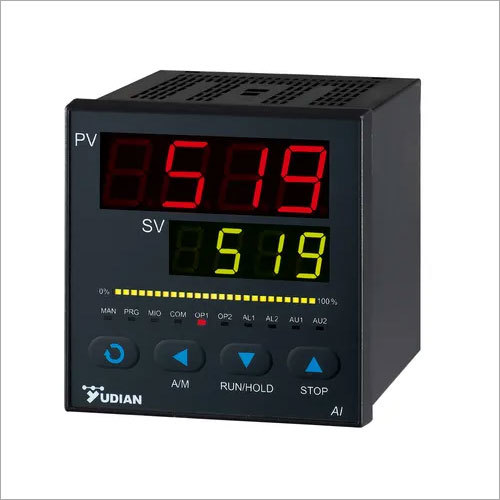 Universal PID Controller
Price And Quantity
Product Specifications
Linear current /voltage

Linear current /voltage
Black

9696mm, 16080mm, 80160mm, 4896mm, 9648mm, 4848mm, 7272mm Millimeter (mm)
Product Description
Yudian Make Universal Pid Controller
Universal PID Controllers broadly used in manufacturing, engineering, processing, and electrical industries globally. Furthermore, these controllers are extremely wanted for the well tested and CE certified controllers.
Other details:
PID Controller AI 518 / AI 519 :
Accept digital calibration technology for input dimension with input measurement precision 0.3% F.S., non-linear standardization tables for typical thermocouples and RTDs are obtainable in the instrument.
Accept progressive AI artificial intelligence control algorithm, no overrun and with the purpose of auto tuning and self-adaptation.
Adopt progressive modular structure, accessibly providing abundant output choices, can content the necessities of numerous applications, and make rapid delivery and expediencies the upkeep of the instrument.
Friendly and tailored operating interface leads to convenient learning and simple operation. Any constraint can be sponsored to instant operator contact in Field Parameter Table or password defensed in Full Parameter Table.
With international power supply of 100-240VAC/ 24VDC and numerous installation proportions for operators to choose.
High quality and presentation hardware design, employing high performance ceramic capacitor or tantalum capacitor. Associated to opposing models, it takes less electricity, practices less temperature shifting, offers higher constancy and dependability, and can work in a broader range of temperature.
ISO: 9001 and CE Certified, attaining world class level of excellence, anti-interference aptitude and safety.
Accuracy

FS +/-0.3%, Sample Time : 500ms

Input

Thermocouple, K, S, R, E, J, N, Cu50, Pt100, Analog signal

Output

SSR Drive, Relay, Analog signal

Power Supply

100-240VAC (50/60Hz) or 24VDC C / F Selectable

Communication

RS-485

Soft Start Function

Auto/Manual Selectable :

Alarm function

low limit, high limit, deviation low limit and deviation high limit; with alarm obstructive at the beginning of power on. 2

Front panel dimension

6-96mm, 160-80mm, 80-160mm, 48-96mm, 96-48mm, 48-48mm, 72-72mm

Panel cutout dimension

92-92mm, 152-76mm, 76-152mm, 45-92mm, 92-45mm, 45-45mm, 68-68mm
Technical Specification :

Input

Universal (All type of T/C and PT100, Cu50 (RTD), Linear




Voltage, Linear Current, mV, 2wire Transmitter input)

Output

Relay, SSR, Linear Voltage, Linear Current, SCR Phase




Shift Trigger,(Plug in type Modules); Soft Start Option (AI-519); Output Range Limit

Control Algroithm

AI PID OR ON/OFF; Heating / Cooling Dual output with 2 sets of PID;

Auto Tuning; Auto/Manual Bump less transfer (AI-519)

Set Point

Set Point Range Limit; Dual Set Point Switch

Alarm

High, Low,High Deviation and Low Deviation (Plug in type Modules)

Alarm blocking at the beginning of power on

Communication

RS-485, RS-232 (Plug in type Modules)

Protocol

AIBUS (AI-518/519); AIBUS+MODBUS (AI-526)

Power supply

SMPS 100-240VAC/DC, 50Hz OR 24 VAC/DC

Accuracy

0.3% FS

Size (WxHxD) in mm

48x48x95(D2Size), 72x72x95 (D Size), 48x96x95

(E Size), 96x48x95 (F Size), 96x96x100 (A Size), E5

(DIN Rail Mounting), A2 (Bar Graph display)
Features :
Over range and sensor flop output off, A/M Key on front (AI519); Input Offset Light Bar output display (A Size), User clear Password Operating Ambient, Humidity: <90%RH, Temp: 10oC~60oC.
Applications :
This type of Process/ temperature organizer is valid for precise controls of Temperature, Flow, Pressure, Level and Humidity etc.
Trade Information
7 Days

Contact us for information regarding our sample policy