Interface Converter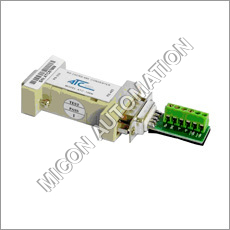 Interface Converter
Product Description
USB Interface Converter

Over the years, we have gained immense expertise in offering USB Interface Converter. It is highly efficient for converting data rates, transmission protocols as well as physical media, allowing service inter-working between numerous communication interfaces. We have a team of highly skilled professionals, who design the offered device using qualitative components and designing methodologies. Furthermore, we check it on different parameters to remove any kind of flaw. We provide USB Interface Converter in qualitative packaging and ensure timely delivery at the premises of our customers to assure their convenience.

Working: Allow service inter-working between E1/T1 to Ethernet and Ethernet to E1/T1 or E3/T3

Other protocol conversions supported include:

Ethernet to SDH/SONET
ISDN and analog voice to Ethernet
Codirectional G.703 64 kbps to V.35
V.36/V.11 or X.21/V.11, RS-530, V.24 or Ethernet
Other details:

RS-232 to RS-485 Interface Converter
The ATC-106 is a 2 channel non-power SD Control RS-232 to RS-485 interface converter.ATC-106 can convert the TD and RD signals of RS-232 into balanced half-duplex RS-485 signals.
Technical Specifications:
Transmission Media: Twisted cable or shielded cable
Connector: RS-232-DB9 Female: RS-485-DB9 Male & Terminal Block Connector.
Operation Mode: Asynchronous half duplex.
Transmission Speed: 9600BPS to 6000 feet.
Supply: Port Powered (It takes power 5.5 V from TD or Handshake Lines.)
Working Environment: 0C~50C, 5%RH
RS-485 Connection: 485+, 485-, GND (ATC-106N)
Features:
DB9-S/P space saving connector.
Interface is compatible with EIA/TIA RS-232 C and RS-485 standard.
Port powered through RS-232, need no external power supply, real three line (TD,RD,GND) mode communication.
Transmission distance: 0-6000 meter @24AWG.