Isolated Interface Converter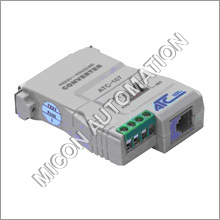 Isolated Interface Converter
Product Description
RS-232 to RS-422-485 Isolated Interface Converter
The ATC-107 is a sequence of a bi-directional interface converters, Models like ATC-107 optically isolate and convert instable, full or half-duplex RS-232 indicators to optically balanced, isolated, complete or half duplex RS-422 or RS-485 indications at baud rates up to 115.2 kbps. Such units also surge overpower the RS-422/485 lines. They support Send Data Control circuitry therefore no software control of handclasp lines is obligatory in RS-485 mode. ATC -107 has integral isolators for high voltage (2500V) guard. It offers Multidrop, Point-to-Point, and Simplex Operations. The ATC-107 can be power-driven from the DC 9V, 200mA power connecter and one slide switches are taken into use for constituting its operation mode.
Technical Specifications:

| | |
| --- | --- |
| Transmission Media | Twisted cable or shielded cable |
| Operation Mode | Duel duplex or half duplex two wire/ foure wire |
| Signal Indication | Sending data (red) & receiving data (green) LED |
| Isolation | Optical isolation is rated at 2500V |
| Transmission Speed | 1.2 Km at 38.4 KBPS |
| Supply | External 9-12VDC |
| Transmission Distance | 2-5 Kilometers (9600 BPS) |
| Working Environment | 0 C~50C,5%-95%R |
Features :
Interface Property : interface is well-suited with EIA/TIA RS-422/485 standard.
Electric interface Feature : RS-232C interface DB25 Pin Female adapter RS-422/485 interface 4- bit terminal/ RJ-11 port.
Working Mode : asynchronous half or full duplex.
Signal Sign : a double color signal sign light indicates TD, RD data.
Isolation : isolation voltage is of 3500VRMS 500VDC sequence.
Power source : serial port electrically stealing at RS-232 finish. Exterior power supply linking at RS-422/485.
Trade Information
Yes

Contact us for information regarding our sample policy