Multi Loop Controller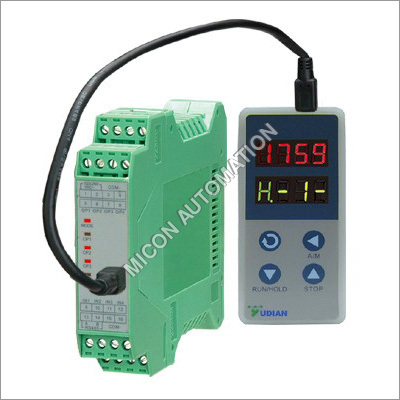 Multi Loop Controller
Price And Quantity
Product Specifications
Product Description
Yudian Make Industrial Multi Loop Controller AI-7048
These controllers are utilizing for gauging as well as directing four different conduits of temperature with separately definable input stipulations for every channel. Furthermore, these controllers are companionable with programmable logic controller and also with computer. Our offered Multi Loop Controller can work self-sufficiently and that too with high competence and working accuracy.
Industrial Multi Loop Controller :
AI-7048 is skilled of gauging and controlling four conduits of temperature, and each channel can describe its own input requirement. AI-7048 can also work self-sufficiently or collaborate with computer or PLC (Programmable Logic Controller).
Its Features:
Offering up to four channels of configurable involvements, and supportive manifold thermocouple inputs with auto reference intersection recompense and linear voltage inputs with operator defined scale. Each channel possesses its own digital sifting and can regulate its filtering degree.
High presentation hardware design, that importantly reduced temperature drift and the meddling amongst the four channels. Consequently, this multi-channel device attains the same dimension precision and anti-interference aptitude as that of single channel device.
Every channel has autonomous low/ high alarms, and the alarms can be owed to diverse alarm productions or to the similar alarm output.
Friendly and modified operating interface causes easy learning and unpretentious handling. Up to 12 constraints can be sponsored to instant operator admission in Field Parameter Table.
Progressive communication purposes, companionable with the announcement protocol of other AI series devices. One AI-7048 connects with the host computer the similar as four self-governing controllers.
Common power stream of 100-240VAC or 24VDC.
New group D5/E5 rail mounted measurement. The thickness of D5 is only 22.5mm. The device can be easily organized by linking to handset display.
ISO9001 and CE expert and gratified with EMC standard, attaining world class level of excellence, anti-interference aptitude and care. The power and all I/O stations approved 4KV/5KHz EFT test, and the device can work firmly under interference.
Over variety and sensor fail production off, Auto Tuning, Input Offset.
Technical Specifications:

Inputs

T/C : K, S, R, E, J, T, B, N, WRe5- WRe26 Linear voltage: 0~20mV, 0~60mV, 0~100mV, 0~1V, etc

Measurement accuracy

0.2%FS 0.1C

Sampling rate

250ms

Control period

0.48 sec / 4 channels

Output

SSR voltage, 12VDC/20mA each channel

Temperature shift

<=0.01%FS / (typical value is 60ppm/ )

Electromagnetic compatibility (EMC)

4KV/5KHz according to IEC61000-4-4; 4KV according to IEC61000-4-5.

Isolation with standing voltage

Between power, relay contact or signal
terminal >=2300VDC;Between SSR voltage output and thermocouple input>=600VDC

Power supply

100~240VAC, -15%, +10% / 50Hz, 120~240VDC, or 5VA.

Operating Ambient

Temperature(-10~60); humidity C <=90%RH

Power supply

100-240VAC or 24VDC
Trade Information
Contact us for information regarding our sample policy

100 % safety guarantee